A5 Colibri (discontinued model)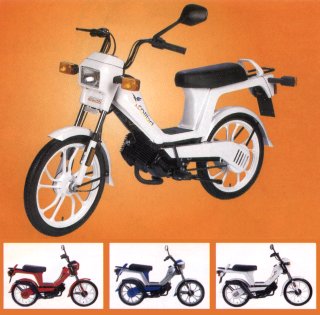 Construction

A5 Colibri was primarily designed to replace the aging A3 Automatic. First series was presented in 1988. Everything on the moped was developed from scratch with a strong emphasis on styling and modern technical solutions. A connection between Italian designer Giugiaro and Tomos™ has been established and from this corporation a completely new bodywork and detail design emerged. On the technical side Tomos™ development team designed a new engine attached to a swinging arm monoblock, which also supports inlet and exhaust components and the rear wheel with fender. It's connected to a motorcycle-style square tube frame by a monoshock suspension.
Ergonomic and user-friendly features like the seat locking and height adjustment, helmet locking, flat foot rest, foldable turning signals, rain deflectors, grab bar and conveniently located fuel valve were also incorporated into the design. Handling was improved by wider wheel base, which made moped more stable at high speeds.

Evolution

Only minor improvements were implemented during the course of A5 production. Engine was improved by addition of electronic ignition, oil pump and catalysed exhaust. Braking ability was improved by increasing the brake shoe diameter from initial 90 mm to 105 mm. Wheel rim design changed.

Personal opinion

Colibri as a whole proves itself as the one of the best Tomos™ moped models built to date. With minor improvements it would be the best.. Compared to the A35 models it has some very good points like advanced suspension, far superior handling and stability at high speeds. Two-up riding is easier and it's also a lot wider than the A35s so the "riding feeling" is much better. Personally I like the fuel valve which is located on the upper side of the moped and it's very easy to reach and the rain deflectors. Unlike on some mopeds these really work. Bodywork quality of the moped is superb- only plastic parts are the headlight fairing and the small cover under the seat. Everything else is metal.
What I don't like is the seat, which is made out of plain rubber and doesn't deserve it's name. It's really hard and takes all the fun out of longer rides. Cheap plastic brake levers are the other thing that doesn't belong on a modern moped. They're too elastic and don't give a confident feeling in braking maneuvers. Difficult maintenance of the carburetor (like cleaning the fuel or air filter) or changing the motor oil should also be mentioned. Everything is crowded between the frame tubes and many parts have to be removed just to reach the engine. Even the choke lever is hardly reachable. Except for the choke this is not really a problem for an average moped rider, but becomes a problem when you service or tune it yourself.