Moped fans
Here are moped fan pictures from all around the world. If you have pictures of you and/or your moped, send them with a description and they will be included here.


Sina mopéd

CTX gearbox/APN primary transmission/E90 cylinder, Dellorto 24, max. speed 85 (15/34 ratio; close to 100 with 15/32). 2617mm length (30cm longer than V-rod!) Made for drivers height of >190cm.. Not je completed; excluding side indicators, front extra lights, chromed tank, 18" front wheel,..
E-mail: pblade.nimfa@siol.net

Entry: August 2002



Streetfighter by Mate

This is tomos BT 50 streetfighter it has carburator bing 18,alu wheels and piston 38 his top speed is 90km/h.

E-mail: -

Entry: July 2002

Tomos BT 50 Streetfighter
Teos' bike

Teo from Croatia is 17. Bike data: engine 15slc, carb bing18, exhaust cagiva 125, 13/32 transimssion, top speed 90km/h, front forks and wheels from "deva" as we call it here in Croatia.

E-mail: sasa.zikic@ri.hinet.hr

Entry: June 2002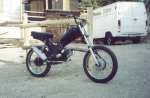 The bike



APN conversions

Tuned APN models from Croatia.

APN 4 by Mitra

E90 engine
E90 front suspension
Dell'orto 24 carb

APN 6 by Zupan

Stock engine
Bing 18 carb
Lipnik exhaust

APN 4 by Jivs and Josip

BT 50 engines.
Green: 40 piston + T15 cylinder + Dell'orto 20 carb + E90 forks.
Red: 40 piston + Bing 20 carb.

E-mail: mapuskaric@inet.hr

Entry: May 2002



Supermoto by Matevz

BT supermoto conversion: front forks from an old dirt bike, ATX back dampers.. Engine: BT cylinder, 18 mm carb, 39.5 piston, port job, MF Power exhaust, 11/33 transimssion, top speed of 70km/h with excellent acceleration- wheelies in 1st and 2nd. Owner is 17.

E-mail: matevz.hribar@siol.net

Entry: May 2002
| | |
| --- | --- |
| BT Supermoto conversion | Back shot |
Henks' mopeds

Pictured are two of more than 20 mopeds owned by Henk Boom who has worked with them for more than 14 years. First one- 3E was delivered only in Holland, second one-O3P was rebuilt in 1999. High handle bars were are typical of the Haag city in the sixty's. 3E has a special Holland market direct-cooling cylinder.

Henk Boom Repair, The Netherlands

Entry: March 2002
| | |
| --- | --- |
| 3E model from 1969 | O3P Silverstreak from 1964 |
Richards' Targa

Richard from Saint-Boniface, Manitoba, Canada bought his Targa in June 2001. It was completely stock with the exception of an additonal right hand side mirror and a basket on the rear. Since then he has added a bigger basket in May 2002 and a Bullet exhaust from the Netherlands in July 2002. He replaced the bipod kickstand with a side stand. "Anyhow, I find that riding the Tomos around town is a great way to enjoy running errands and save on gas costs as well. A full tank on my moped costs about $2.50 CDN (whereas a full tank on my Ford Aerostar van is about $55 CDN)."

E-mail: rloiselle@escape.ca

Entry: February 2002
| | |
| --- | --- |
| Proud owner. | Left & right shot. |
Hardley a Davidson

Alex from Ontario, Canada modified his Targa LX:
"I made a mini blower that works after 50 km/h it makes me go about 120 km/h for as long as I want. I also pounched out the carb and took 70 thou off the top of the head and 30 thou off the piston now for the interesting part I put 1/4"copper tubing all over the head in and out then put a small rad mounted to the frame for extra cooling and I only use redline 2stroke oil for my bike."
It also has a very interesting Airbrush job all over the frame.

E-mail: infernogod69er@hotmail.com

Entry: October 2001

Left shot.

This air blower mounted inside the inductive cowling provides additional cylinder cooling.

Front shot.


Hardley a Davidson

Detail shot of the Airbrush job.
Nikola's mopeds

Nikola from Yugoslavia has a '76 Tomos™ Cross Junior (80 kph), '73 Automatic N (stock 40kph) and '85 Automatic A3ML (60 kph).

E-mail: kaplij@ptt.yu

Entry: September 2001
| | |
| --- | --- |
| Group shot. | '85 Automatic A3ML |
| '73 Automatic N | '76 Cross Junior with BT fairings |
Tomos™ mopeds by P Blade



1st picture: What you get if you mix up a BMX bike, an Automatic, an Apn 6, etc..

2nd picture: My first moped, my grandpa gave it to me when I was 14, and I still have it. I'm trying to preserve it in its original shape without tuning (a.k.a. Old timer). Repaired when necessary. Engine never broken, except ignition, because we need this moped for 'banging'. Flame length of cca 0,5m is burned out of exhaust system and sound... too many words to explain the bass. Max speed is 55 km/h.

3rd&4th picture: upgraded version of Tomos™ mix BMX. New A5 engine, Zastava 101 exhaust system, wheels.. Max speed 65-70 km/h.

5th picture: My favourite moped - until I bought real motorcycle, chopper. Max speed with head down of 100kg owner is 120km/h @ 9700 RPM.

Good luck, P Blade

E-mail: pblade.nimfa@siol.net

Entry: August 2001
| | |
| --- | --- |
| Tomos™ mix Bmx v. 4.01- mixed BMX bike, Automatic, Apn 6, .. | '81 Automatic |
| Tomos™ mix Bmx v. 6.03- right | Tomos™ mix Bmx v. 6.03- left |
| ATX E90- untuned '77 Electronic 90cc engine, ignition home upgraded with 24-bit DSP (Digital Sparkle Processing), 24 mm Dell'orto carburettor, MF Power chrome exhaust system, front disc brake, CEV rev counter.. | Preview (sketch) of 'Šina Moped' officially (kiddin') known as To Okretalo Mora Orto Sekat, which is now almost in final phase of construction. I'll send a picture when its finished and tested. |
Kristjan's APN/BT mix

Kristjan from Slovenia made this APN 6 conversion with BT 50 front and extra 5th speed transmission add-on. Top speed is reportedly at 75 km/h.

E-mail: zudkri@hotmail.com

Entry: July 2001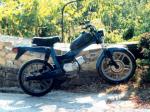 APN moped conversion
Mountain Moped featured pictures

Ever wondered how Tomos™ Targas handle Canadian Rockies? As Mountain Mopeds' snapshots show, people love riding them near Banff Canmore Lake Louise in the Alberta Rocky Mountains. Ry, many thanks for the pics!

E-mail: mountainmoped@telusplanet.net
Homepage: www.mountainmoped.com

Entry: May 2001
| | |
| --- | --- |
| LL Lakers on Tomos™ mopeds. | Conference at the Marriot. |
| Rimrock Rebels. | Town buzzing. |
| Kamikazeing down Sulfer Mountain. | Rent-a-ped-right-to-the-door. |
| Nice headset. | The WHEEL Way To Tour The Rockies! |
Scott's Tomos™ Targa

Great Motor, Good Bike design. Be warned the kickstand twist very easily and is very poorly constructed. Does 80 km/h on the flat and climbs great.

Scott Garner, Oshawa, Ontario Canada

Entry: July 2001
| | |
| --- | --- |
| Blue 2000 Targa. | +BiBurbo |
Damir's mopeds

Damir is from Srednja Bistrica, Slovenia. He has a BT 50, APN 4, TX 50 and CTX 80 (and only one butt? Just kidding :-). Here are pictures of his beautifully preserved and tuned '89 BT 50S and CTX 80.

Entry: June 2000, May 2001
| | |
| --- | --- |
| Stock '89 BT 50S. | Right side with a sport pipe. |
| Same thing resprayed and a CTX 80 cc engine installed. Reported top speed 120 km/h. | Stock CTX 80 dirt bike. Reported top speed 100 km/h (not that it matters in off-road). |
Ziga's Tomos™ Automatic

Ziga from Koper, Slovenia sent some cool pictures of his hopped-up A? beast.

E-mail: vasja.ziga.jelen@siol.net

Entry: March 2001
| | | |
| --- | --- | --- |
| Ziga with his friend. They did all the mods. | Adjustable rear shocks and pipe apparently taken off a BT 50. | Smoke this. |
| | |
| --- | --- |
| Front shot. | Rear shot. |
| Dressed fairing. | Sport pipe. |
Sven's Tori Cityped

Sven from Gothenburg, Sweden generously contributed some pictures of this Tomos™ powered foldable mini moped made in Slovenia.

E-mail: u31811758@telia.com

Entry: June 2000, © Sven Eriksson
| | |
| --- | --- |
| Foldable Tori mini moped. | Carb stuff. |
| Engine stuff. | Lighting stuff. |
Seth's Tomos™ Targa

Seth comes from Pearisburg, Virginia, USA. He also has a JC Penney's Pinto and a Honda Spree scooter.

E-mail: seth@eems.giles.k12.va.us

Entry: November 1999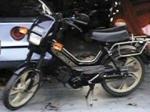 Black '94 Tomos™ Targa.
This used to be my 'ped. Hopped up to 65 km/h.

Entry: September 1999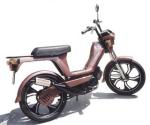 '88 Bordeaux Colibri.